Compound and Storage Information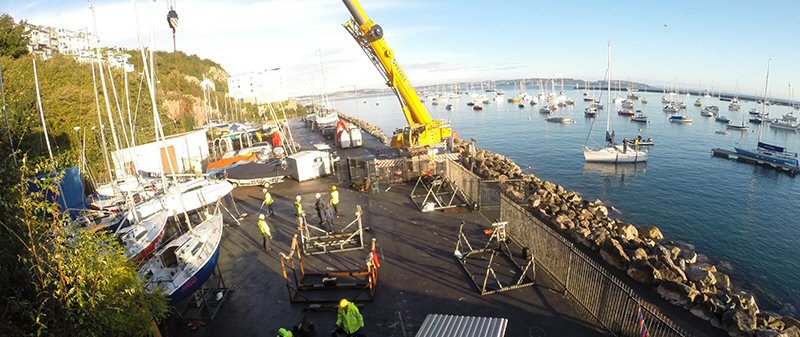 The Club is extremely fortunate to have several secured compounds adjacent to the Clubhouse and the launching slipway.
The Main Compound is used to store the Club owned RIBs and Dinghies all year round but also in the Summer season it is available for members to store their own dinghies (for a fee).
In the Winter months it is used for fee-paid dry storage of member keelboats, which are craned-out of the water in the Autumn and craned-in to the water in the Spring.
In addition, the smaller Tender Compound houses member dinghy tenders kayaks and outboard engines by arrangement and for a fee.
Current fees - SUMMER ONLY
| | | |
| --- | --- | --- |
| Type | Notes | Price |
| Collapsible Cradle | (Summer only - collapsed) | £35.00 |
| Dinghy-monohulled | Summer Only (LOA to include trailer) | £26.00/metre Summer |
| Dinghy-multihull | Summer Only | £230.00 Summer +£230 for winter if space available |
| Dinghy - monohulled | Winter only Oct-Mar Fixed fee | £100.00 |
| Kayak/Canoe | Annual Jan-Dec or part thereof | £60.00/year |
| Outboard Engine | Annual Jan-Dec or part thereof (engine shed) | £30.00/year |
| Powered Dinghy/RIB | (LOA includes trailer) | £32.00/metre Summer Only |
| Tender Rack Slot | Annual Jan-Dec or part thereof | £45.00/year |
| Topper / Pico / Kayak | (In Topper rack only) Annual Jan-Dec or part thereof | £60.00/year |
Please read the Clubs Policy/Procedure for abandoned or unpaid storage in secion 11 of the Club By-Laws HERE Acceptance of storage means you are deemed to agree and adhere to the policy.
IMPORTANT NOTICE: Access

All compounds are accessed by combination locks; keys will no longer be issued or used.
Users will be notified of the relevant access codes when paying for storage.
These codes may not be published to third parties and in the event of any abuse, the codes will be changed.
It is essential that an e-mail address is provided for combination change notification.
All Racks and Engine bays are numbered please only use your allocated space/rack. Dinghies/Kayaks/Engines in unpaid spaces will be removed.
Summer arrangements
Member boats may be stored in the main compound for the sailing season only, from the week after Crane-in day to the week before Crane-out day.
Crane in/out day will be published in the On-Line Calendar.

Dinghies, including catamarans, are welcome, but they must be capable of being moved within the compound and not clamped. Empty road trailers are to be removed from the compound.
All dinghies & catamarans must be removed from the compound for Club special events & championships, without compensation.
Owners will be notified in advance of dates that they will be required to move their dinghies.
Please visit the special events for dates when boats may need to be temporarily removed.
Hobie-Cats may be stored in the main compound for a whole year, if there is space.
There may be space for a few dinghies in the winter but this cannot be guaranteed. Applications cannot be considered until the Crane out List has been populated during September.
Important: Any boat for which the fee has expired should be removed within three weeks of the Club requesting this, or they may be disposed of.

Tenders & Engines
Tenders (inflatable dinghies) and engines can be stored in the Tender Compound. Tenders will be allocated a rack number.
Note: Fuel cans must NOT be stored in the engine store. Any cans found will be removed and disposed of.
Winter Arrangements -Yachts/Keelboats
With space at a premium, it is not possible to accommodate all yachts for the winter alongside dinghies requiring storage in the Club's main compound.
The compound must also accommodate the Club's RIBs, with access for possible launch and servicing, plus the Club's own dinghies and tenders, and potentially 'Shuttle'.
Club owned Dinghies and tenders may be stored in the covered compound. Overspill of club tenders are placed in the tender compound as necessary. Please see winter storage terms and conditions plus compound rules below below.
Winter storage space is allocated in the following order:
1. Club boats
2. Vessels actively participating in club events
3. Vessels belonging to Members who assist in the organisation of club events.
4. Vessels belonging to Members which are regularly used.
Note: The continued storage of boats which are not launched is actively discouraged.
Terms, Conditions and Compound Rules: -
Fin keel yachts must be stored in a suitably sized cradle.
Storage area must be cleared and swept and cradles removed from the compound within 48 hours of Crane-In next season unless cradle is collapsible and payment is being made to store for the summer season.
All hoses are to be put away tidily after use and the yard around your boat to be kept tidy
Electricity can be sourced from sockets on the outside of the wooden shed only, no power leads to be left out overnight. Electricity is ONLY available between 08:00 18:00 Daily
No Oil or Fuel to be left around the compound
Old Batteries can be left alongside the electric shed for disposal
No moving of any support props without help from an experienced person
Any boat that required moving mid storage season must have a full experienced yard crew
Any work undertaken by an outside company will incur a charge for Electric and Water of £10 per day or part thereof for Water and £10 per day or part thereof for electricity
No spraying of any material except water without the boat being fully encased in a protective tent to protect other boats in the area.
All waste generated during any lay-up period is the sole responsibility of the vessel owner. A charge will be made for removal of any waste remaining in the area of the vessel after the storage period ends. Any club waste bins that may be in the compound must not be used.
Please refer any issues with the above or problems during the season to a director of the Club
On completion of the storage Agreement, the following provisions shall have effect:
a) The Owner shall be permitted to store the vessel for the appropriate period
referred to in the notice of storage charges subject to all conditions stated in
that notice such storage to take place in the area of the Club determined by
the Club
b) The Owner shall make his/her own arrangements for the
ingress/egress/hoisting/lifting of the vessel in relation to the Club premises
c) If requiring support, the Owner shall ensure that at all times the vessel is
adequately supported
d) The vessel shall be insured by the Owner against third party risks in the sum
of at least £ 2 million.
e) The Club may at any time, at the Owner's risk, move the vessel, if it is capable
of being carried or transported on a trolley or trailer, inside or outside the
Club premises
f) The Owner agrees that if he/she requests any Club officer or member to
assist in activity under sub clauses (b) and (e), that the officer or member will
be acting as the personal agent of the Owner and that no liability in contract
or tort shall fall upon the Club, nor its Officers nor members
g) The Owner agrees to indemnify the Club, its Officers and Members for all
actions claims costs and demands arising in connection with the vessel and it
storage
Other
Kayaks and collapsible cradles may also be stored in the Tender Compound if space permits.
Please contact membership@brixhamyachtclub.com BEFORE bringing your Cradle/Kayak into the compound.
Last updated 14:12 on 5 September 2023